Choosing a portable oxygen concentrator(POC)
We help you make the right choice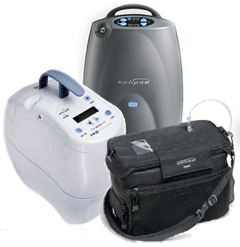 Personal Oxygen Concentrators are not alike. Each has it's speical features and specifics - This also applies to patients requiring the use of oxygen from such devices. Our goal is to match you, the patient, with the right - best possible solution to meet your specific needs.
Following the steps below will help us to assist you in making a choice of device that best meets your portable oxygen needs.
1. Fill in our questionnaire so we can better understand your specific needs

2. One of our licensed Respiratory Therapists will contact you to discuss your specific needs and address questions you may have.

3. We can assist you in making an educated choice of your oxygen solution
4. Receive Training from our Respiratory Therapist regarding the options you have in selection of a Portable Oxygen system that will best meet your needs

Making the most appropriate decision when buying a Personal Oxygen concentrator is of course the desired goal, both health and dollar wise. There's nothing worse than purchase of a device then finding in a short times use that it does not meet your needs or expectations.
Following completion of our short questionnaire, either on-line or by consulting directly with one of our Licensed Respiratory Therapist to discuss the options and specifics of a device your interested in, we then suggest the appropriate oxygen delivery system that meets your expectations as well as your needs.
The goal of our consultation that each customer is provided information regarding sepecific equipment specifications - you buy what you need & desired as well as complete training in use of the equipment. Our goal to ensure that the your experience when you use your portable oxygen is as error and trouble free as possible, meeting your bodies oxygen requiements.
All Portable Oxygen Concentrators (POC's) are not alike, each brand and model device delivering oxygen in a slightly different manner due to its engineering and design. The size of the dose or bolus of oxygen delivered at each breath differs somewhat, the amount of oxygen each machine can produce in a minute at maximum, as well as flow characteristics, trigger sensitivity and other characteristics differ between manufacturers and models.
One of the most important and changing features of current portable oxygen concentrators in todays models is the amounts of maintainence required, the costs of those items, as well as where that maintainence is performed.
In the past units had to be sent back to factory for maintainence of items like "sieve beds" which are the parts of the device that extract and concentrate oxygen from the air for delivery to the patient. In todays new models this has become a simple task done at home - usually in a few minutes with simple installation. That has dramtically decreased time and costs of sending a unit in to repair - as well as loss of unit while gone to service. The newer models are indeed superior units to earlier predesessors.
The maximum oxygen production capability of the device per minute is a very important "KEY" feature when the patient needs / requires an assured large bolus of oxygen at each breath to maintain appropriate oxygen levels. Many of the smaller devices are designed to work at a maximum of 20 breaths per minute, with lower oxygen production per minute - this is not a bad thing if this meets your oxygen requirements - newer models are going up to 30 breaths per minute with greater amounts of production, and sustain longer battery use life.
From the oxygen per minute production basis, the oxygen produced is then divided by the number of your breaths and the oxygen bolus delivered must be provided by the device at a good purity standard of produced oxygen, or the net amount oxygen delivered is diminished in size of bolus, or purity of the oxygen produced. Both of which can leave you short of breath - when you are working most. This is what occurs as the respiratory rate exceeds exceeds the oxygen production rate per minute.
So a device that works at rest may not in some instances produce sufficient oxygen for a patient in exercise conditions or a high base line respiratory rate, like when a walking a distance for example. Another example - a patient with one lung - breaths faster - requires a larger dose at each breath - so matching of requirements and device capabilities is a KEY important choice of device and need.

The knowledge is that not all devices are capable meeting the needs of all oxygen patients. If you have higher oxygen demands or require continuous flows this further directs our selection to higher capacity devices or devices that can provide continuous flow.
If at all possible we try and titrate all of our patients, which means we like to have them try the device they will be acquiring with a Pulse Oximeter which can measure oxygen saturation while on oxygen and without oxygen, to make sure that this is the correct device to meet their needs and maintains their oxygen saturations to the required amount prior to sale.
We offer Nocturnal (Night time sleep hours) Pulse Oximetry testing services to verify the appropriate use of "pulse dose" oxygen delivery device at night. We also offer verification of oxygen saturations at rest and exercise both reqiring an order from your physician.
Prescriptions are required for oxygen equipment purchase. We can accept prescriptions from USA, MEXICO, CANADA

Due to the current Pandemic Health Emergency we are not renting portable oxygen concentrators for travel. As the market opens - these conditions can change and are subject to conditions. Please feel free to call with an inquires you have regarding travel.